Pursuing a medical negligence claim can be a daunting prospect. After all, you probably haven't done it before, and it's likely to be a very difficult time for you and your family. But that's why we're here to help, at Injury Lawyers Direct.
The process of claiming isn't as long and complex as you might think and we can guide you every step of the way, ensuring it's as simple and stress-free as possible. Our experienced medical negligence solicitors can take care of all the legal aspects on your behalf, whilst you focus on what matters – your recovery. And we'll work hard to secure the compensation you deserve.
Here's a quick summary of how it works: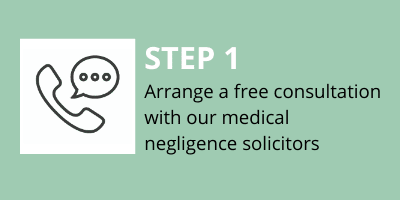 First things first, give us a call on 0800 110 5888.
We offer a free initial assessment for everyone, during which we will ask a few questions about your experience of medical negligence. Once we know a bit more, we can then advise on your eligibility to claim and the chances of your success.
You're under no obligation to go ahead after the consultation. We'll never pressure you into taking legal action and you can take as long as you need to make a decision. If you decide it's not for you, that's absolutely fine. If you wish to proceed, our team will then start work on a 'no win no fee' basis.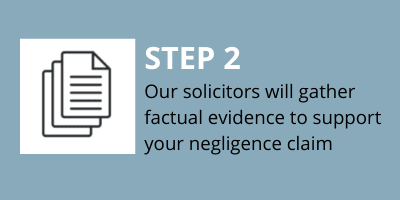 Once you've given us the green light, our first job is to gather factual evidence to support the claim.
Our goal at this stage is to demonstrate the 4 D's of medical negligence. Detailed information on this can be found in our previous blog. Essentially, we need to prove that a healthcare professional failed in their 'duty of care' and you have experienced pain and suffering as a result.
To do this, we'll start by reviewing your medical records and taking witness statements. You may also be asked to have one or more medical examinations (depending on the nature of your injury). This isn't anything to worry about. It's just a chance for a medic, with appropriate expertise, to confirm negligence and identify the impact of that negligence on your life.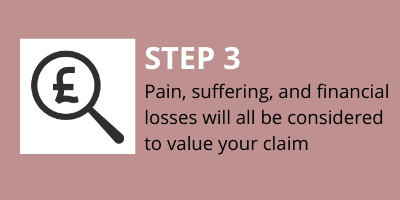 The next step is to determine how much compensation you should be paid.
We'll consider both the pain and suffering you have experienced (general damages), as well as any financial losses you have incurred as a direct result of the negligence (special damages). To support the compensation value calculated, we'll gather further evidence – in the form pay slips, receipts, invoices, and witness statements from your family and friends.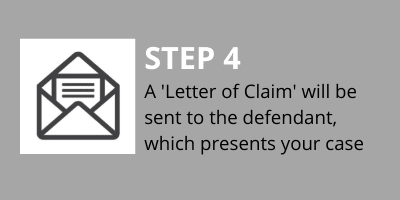 Having obtained the necessary evidence and valued your claim, we will then share that information with the other side (i.e. the defendant). A 'Letter of Claim' will be sent – which summarises your experience of medical negligence – and a copy of all the evidence will be supplied.
From that point, the defendant will have four months to investigate the claim, obtain their own reports, and confirm whether they wish to contest or admit liability.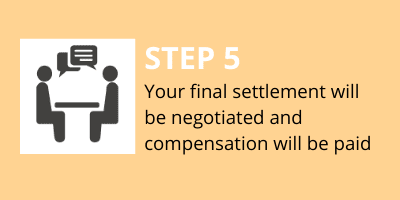 Lastly, our specialist solicitors will begin negotiations.
If liability has been accepted, a formal offer will usually be made in writing. But for some cases, particularly those valued higher, mediation and informal discussions may be necessary.
If the defendant denies liability, court action may be required. However, this is very rare, and your solicitor will continue negotiations right up until the trial date. We always strive to achieve the best possible outcome in the easiest possible way, aiming to avoid court wherever we can.
You can choose to accept or reject an offer at any point, and we'll provide ongoing advice and recommendations on the best way to proceed. Once a satisfactory figure has been reached, compensation is typically received within 2-4 weeks and the defendant will pay our costs.

Ready to start your medical negligence claim?
Claiming for medical negligence doesn't need to be a stressful or overwhelming experience.
With our help, you can breeze right through it. We'll never bombard you with technical jargon. We simply explain what you need to know in plain English and take care of the rest on your behalf.  Whilst you prioritise your rehabilitation and recovery, our medical negligence solicitors will oversee the entire claims process on your behalf – keeping you up-to-date every step of the way.
So what do you have to lose? For more information on medical negligence claims, or to arrange your free no-obligation consultation, please don't hesitate to get in touch. We're always on hand to help and will gladly answer any questions you may have. Just give us a call on 0800 110 5888 to get started or fill out our online contact form and we'll respond as soon as possible.