Eyesight is one of our most important senses.
If it's damaged in any way, it can have a profound and long-lasting effect on many aspects of your life. Which is why, if you've received inappropriate or incorrect treatment from an optician – which you believe has jeopardised your vision – it's only fair that you seek compensation.
Optician errors fall under medical negligence claims. And here at Injury Lawyers Direct, we have a team of specialist solicitors who can guide you through the claims process. To find out more about optician negligence claims and discuss your case with our experts, call 0800 110 5888.
What should I do if I've been a victim of optician negligence?
Once you recognise that you have been a victim of optician negligence, there are certain steps that you should take in order to give any compensation claim the best chance of success.
Firstly, you should ensure that all your interactions with your optician are properly documented. This can include everything from appointments and telephone calls to prescriptions. Even if some of it may not seem useful, gathering evidence can be hugely helpful, and can make your claim more likely to succeed.
Next, if you are in any pain as a result of optician negligence, you should visit your GP. They can refer you to a specialist, if necessary, and provide medical advice on relieving your symptoms. Make notes of all interactions with doctors regarding your recovery, too. These can be used as part of your case, along with doctor's notes and medical reports.
If you believe your optician has acted negligently, you may wish to seek a second opinion from another optician. They should be able to assist with any ongoing vision issues.
Finally, reach out to a law firm specialising in medical and optician negligence, such as Injury Lawyers Direct. We'll discuss more about how to make a claim for optician negligence below.
Let us attempt to put things right
Optician negligence can have devastating consequences, especially if it has resulted in significant sight loss or blindness. For a start, you may be in a lot of pain. But it's also likely to have affected your day-to-day life. Suddenly, you may be faced with a range of new challenges, unable to work or do the things you enjoy. And you're bound to be struggling – physically, mentally and financially.
It's an incredibly difficult time. And we fully appreciate, no amount of money can make up for your loss. But it could make your life a little bit easier. Not only could compensation pay for further treatment, it could also cover any additional costs incurred due to the negligence (e.g. mobility aids, home adaptations) and support you financially whilst you adjust to your new way of life.
So, why not let us help?
A reliable partner for your optician negligence claim
Do a quick online search and you'll find thousands of solicitors who specialise in medical negligence. So why put your trust in us to oversee your optician negligence claim and secure the compensation that's owed to you?
First and foremost, we're incredibly experienced.
Whatever the nature or severity of your case, we have the knowledge and nous to successfully guide you through the optician negligence claims process. From the initial paperwork to the final settlement, we can look after everything on your behalf – delivering straightforward legal advice, collating evidence, negotiating with the defendant and achieving the best possible outcome for you and your family.
You won't be expected to lift a finger. In fact, one of the main benefits of choosing us is that we're real people.
Our no.1 goal as leading medical negligence solicitors is to ensure you're recompensed fairly – but that doesn't mean our assistance starts and ends with money. More than that, we're a compassionate and approachable team, and promoting your recovery is just as important to us as securing appropriate compensation. Whether it's referring you to a specialist rehabilitation facility, arranging physiotherapy or organising access to day-to-day support groups, we'll do everything in our power to help.
And the best bit? Despite delivering the highest standard of service and developing a friendly client-solicitor relationship, we don't charge a penny.
We're fully aware of the huge impact an optician error can have on every aspect of your life – including your finances – and we don't wish to add to your worries. Which is why, we look after all optician negligence compensation claims on a completely 'no win no fee' basis; taking away the financial risk and offering an opportunity to seek justice for your suffering. No strings attached.
Choose us and you can expect a stress-free claims process, tailored and easy-to-understand advice from our medical negligence solicitors and genuine results.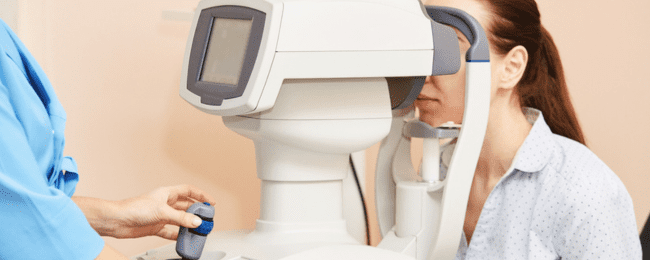 Claims for all instances of optician negligence
Generally speaking, 'optician negligence' is defined as any error or accident made by an optician. Sometimes, the repercussions may be relatively minor – perhaps leading to headaches, dry eyes or eye strain. But in other cases, they can be incredibly severe, causing sight loss or even blindness.
Some of the most common examples include:
misdiagnosis (that has led to the wrong treatment)
failure to diagnose an eye problem
sub-standard treatment
delayed referrals for further treatment
errors during laser eye surgery
But keep in mind, this isn't a full list. Whatever the nature or severity of the optician error, if your treatment didn't meet expectations – and you've been harmed as a result – we can help.
Not only do our medical negligence claims solicitors have vast experience in this area, we have a cohort of consultant insurers, barristers and optical experts at our disposal. Collectively, we've helped many people to put together a successful optician negligence claim – and we could do the same for you.
Start your optician negligence claim today
If you're thinking about claiming compensation for negligent treatment for something like carelessly carried out laser eye surgery, you have nothing to lose by getting in touch with our experts. An initial consultation is provided free of charge. We'll never pressure you into taking legal action. And even if you do decide to go ahead, all work is completed on a 'no win no fee' basis. After all, your injuries are due to someone else's clinical error. And we don't believe you should burden the financial risk of seeking justice.
Either give us a call on 0800 110 5888 or fill out our online contact form and we'll respond with a few potential dates and times for us to chat. We'll listen to the circumstances of your optician negligence case, advise on whether you have a valid claim, and suggest the best steps for you to take.
Your optician was legally bound and had a duty to provide you with a certain standard of treatment. If they failed in this duty, let us help to secure the compensation you so rightly deserve.